DV3548 Solar Charger - 1/2 amp 48 V 35W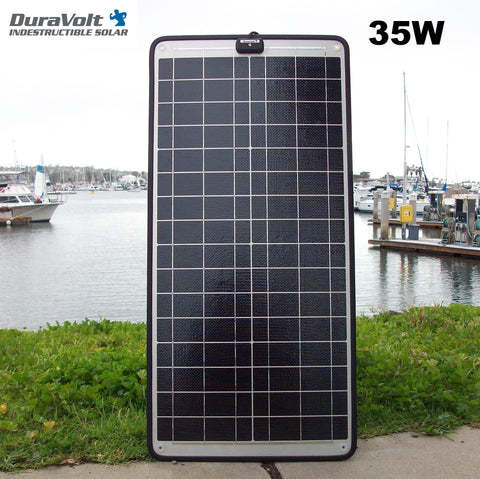 Features
Please check the Amazon reviews for ITC Solar & DuraVolt.

Great for 48 Volt Trolling Motors - .50 A Charging.

CALL US WITH QUESTIONS: 1+ 858-337-7950

NO EXPERIENCE - Plug & Play design. Charges 4 x 12 V batteries connected to 48V.

Free Adapters Included included for other trolling motors - Free Tech Support.

Self-Regulating - 48V Batteries  solar regulator or controller is NOT needed.

Semi-Flex NOT Bendable, BEWARE bendable panels can crack the fragile solar cells.

Low-Profile & Lightweight Design. 

28.7" x 13.7" x .25" thick 10 ft cable

100% Satisfaction Guaranteed.
Description
Designed in California and Manufactured to the highest of quality standards. Featuring universal "Plug & Play" design. Easy to install without any prior solar experience. Semi-Flexible but NOT Bendable. BEWARE bendable panels can crack the fragile solar cells. Included are detailed instructions and FREE support hotline. DuraVolts are fully weatherproof and are ideal for boating and camping. They are light weight and feature proprietary "non-glass construction". ---- CONSTRUCTION: An unbreakable plastic film surface with semi-flexible aluminum backing make these panels ideal for mounting on flat or gently curved surfaces. Crystalline cells have the industry's highest conversion efficiency, providing maximum power while taking up less space. -------- INSTALLATION: Each panel has 4 mounting holes for easy mounting. Outdoor rated power cable that connects directly to your battery through the factory installed fused cigarette lighter plug. Power cable is 10 feet long. ---- ----INCLUDED EXTRAS: FREE tech support, battery clip adapter and battery ring terminal harness. We guarantee 100% customer satisfaction. Try the DuraVolt and if it does not meet your expectations for any reason contact us for a full refund or exchange for a different size unit..... Please contact us if you need assistance choosing the correct Model :::::: NOTE: User field modifications such as cutting cable or removing fused cigarette lighter plug will not void warrantee. ---- Low-profile & light weight.
28.7" x 13.7" x .25" thick 10 ft cable

. Voltage Regulator (Controller) is NOT needed for 24V batteries. ----
---
More from this collection